Welcome to
The Belle-City Kennel Club, Inc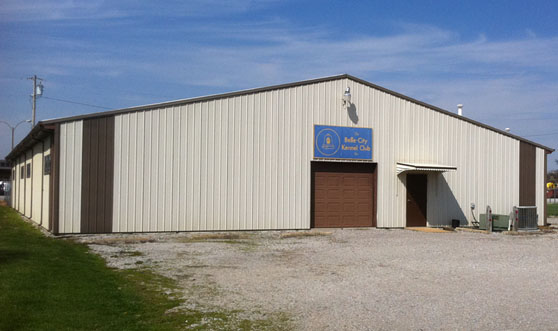 Belle-City Kennel Club, Inc has been part of Belleville's history since 1964. As of 2010 we are officially an AKC Member Club.
Current membership is 93 adult members, six associate members and three junior members (as of July 2009). There are many different breeds represented by our club members
Puppy, conformation and obedience classes are available. For the more active dog and owner, agility and tracking classes are also occasionally offered. Classes are open to all dogs; fees vary. Canine Good Citizen testing is done throughout the year. Information on dates for testing are posted on our website and with local veterinarians.
Our club has many events throughout the year. We participate in many local dog and non-dog events. Our members like to march in the Santa Parade which is held every year the day after Thanksgiving. Thanksgiving in historic downtown Belleville. We also man informational booths at local events.
The two main events put on by our club each year are, our AKC All Breed Conformation Show and our AKC Obedience and Rally Trials.Our conformation show is always the end of February/beginning of March and is two days. It will be held at the new Purina Event Center at Purina Farms in Gray Summit, MO. Our Obedience and Rally Trail will be held in our training building and is a two day event.
For more information or questions please contact us at info@bellecitykc.org
UPCOMING CLASSES AND EVENTS
IMPORTANT MESSAGE
It was brought to the attention of BCKC president Carole Wilson, that plans are in the works to close the Theriogenology section of the Missouri College of Veterinary Medicine. Dean Neil Olson made this decision and it would eliminate the department by 2019. We're asking everyone to step up and write or call the following people and express your concern over doing away with this department. Please contact all members listed so there is a "paper trail." Please refer to the initial address for zip, etc.

Thank you in advance for all your help in saving this valuable local asset.

Dean - Neil Olson
College of Veterinary Medicine
W203 Veterinary Medicine Bldg.
900 East Campus Dr.
Columbia, MO 65211
olsonne@missouri.edu
573-882-3768

Interim Dean - Dr. Carolyn Henry
A373 Clydesdale Hall
HernyC@missouri.edu
573-882-7821

Department Chair - Dr. John Dodam
A383 Clydesdale Hall
DodamJ@missouri.edu
573-884-6444
Hospital Director - Dr. David Wilson
A366 Clydesdale Hall
WilsonDA@missouri.edu
573-882-1700

Chancellor (Columbia campus) - Dr. Alexander N. Cartwright
105 Jesse Hall
ancartwright@missouri.edu
573-882-3387

President (University of Missouri System) - Mun Choi
321 University Hall
choimun@umsystem.edu
573-882-2011
************************************
Conformation Class
Drop In Conformation Class will begin on Tuesday, Aug 15th
Class Info
Puppy Class
Puppy Class will begin on Monday, Aug 7th
Class Info
Rally Class
Rally Class will begin on Monday, Oct 2nd
Class Info
CGC Class
CGC Class will begin on Thursday, Sept 7th
Class Info
Calendar of our upcoming classes, events and meetings......

| | |
| --- | --- |
| Keep in touch with BCKC on Facebook | BCKC is proud to be an AKC Member Club |